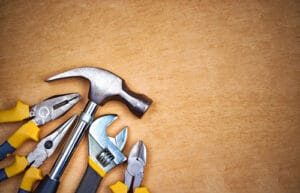 Soon Houston's hot summer weather will give way to chilly winds and rain puddles. These last remaining warm days offer the ideal time to take care of some essentials around your house. Using a checklist can help ensure you take care of the most important fall home maintenance tasks.
Fall Home Maintenance Checklist
Look at the exterior of your home to see if any repair work is needed on broken bricks or damaged stucco. Fix, replace or paint any siding or trim that needs it as well. Lastly, make sure outdoor electrical boxes are watertight.
Examine your property's grounds to determine whether or not there's damage to your walkways that should be repaired.
Inspect your gutters and downspouts to ensure they're clear of leaves and debris and are attached securely. Take a quick visual inventory of the condition of your roof and chimney while you're up there.
Clean your patio furniture and store it in a dry location to avoid cracking and fading.
Check out your HVAC system's air filter monthly to see if it needs to be replaced or cleaned.
Promote effective airflow by cleaning dust and debris around your HVAC system, cold-air vents, dryer vent, baseboard heaters, room fans and stove hood.
Seal any air leaks that are in your home with caulking or weatherstripping to prevent energy waste and uncomfortable drafts inside the house.
Make sure you have enough attic insulation, with an R-value of 38 or more to lock in more warmth during the winter (and to keep warmth out in the summer).
Fix leaky pipes in your kitchen, bathrooms and utility room to avoid problems in the middle of winter.
Have your fireplace flue and liners cleaned to prevent the buildup of creosote.
Schedule a pre-season maintenance appointment for your heating system. Annual tune-ups play a major role in having an efficient and safe unit. Professional care also decreases the likelihood untimely breakdowns will occur and helps maximize the life expectancy of your system.
For more info on these fall home maintenance tasks, please feel free to contact us at ACS Absolute Comfort anytime.
Image Provided by Shutterstock.com