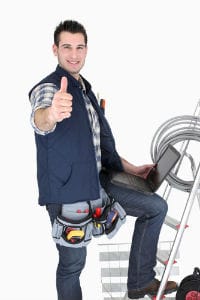 If you're looking for a new furnace, a tune up or other heating and cooling services, working with an HVAC contractor should be your top priority. The contractor that you choose should be staffed with knowledgeable and professional HVAC experts who can provide you with everything that you need.
When to Lean On an HVAC Contractor
If you're experiencing any problems with the furnace or air conditioner in your home, or if you have an indoor air quality issue or would like preventive maintenance performed before the harsh winter conditions arrive, reach out to an HVAC contractor. A skilled heating and cooling technician will also be able to install, inspect and clean air conditioners and furnaces as well.
When you contact an HVAC contractor, describe your problem or need in as much detail as you can. This will help the technician to better understand the challenge. When he diagnoses the problem, be at his side so you can learn more about your heating and cooling system. A reliable HVAC contractor will be there when you need them the most.