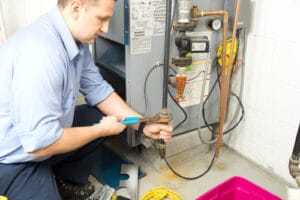 Summer is drawing to a close in the Houston area, and that means it's time to start thinking about scheduling your fall HVAC maintenance. An annual tune-up will increase the efficiency of your furnace or heat pump to save you money on energy costs, and it will help ensure a problem-free heating season.
Fall HVAC maintenance should be performed by a qualified technician from a reputable contractor who has the skill and expertise to spot problems and make repairs. This is to ensure quality, guaranteed work.
What's Included in Professional Maintenance?
Over time, normal wear on your heating system results in a loss of efficiency, increasing your energy costs and reducing your comfort level. The following tasks likely will be included in the annual tune-up, and will go a long way toward saving you money and keeping you cozy this heating season.
Tighten electrical connections and belts.
Inspect the terminals and wiring for damage and corrosion.
Check the accuracy of the thermostat.
Measure airflow for optimum heating.
Measure voltage on the motor and other electrical components.
Lubricate the moving parts to reduce friction and help prevent premature failure.
Clean and flush the condensate drain to prevent water damage, mold and increased humidity.
Test the controls of the system to ensure it starts, cycles and shuts off properly.
If you have a gas furnace, these tasks also should be included in the tune-up:
Inspect the fuel lines and connections.
Measure the flue gases.
Check for dangerous carbon monoxide leaks.
Clean and inspect the burner assembly and heat exchanger.
What You Should Do
After your tune-up, you can help keep your heating system operating efficiently for the duration of the winter by inspecting the air filter and replacing it when it's dirty. A dirty air filter will restrict airflow, which reduces efficiency and can cause serious damage to your system. A clean filter will help keep your home's air clean and protect your system against dust buildup on essential components.
To schedule your fall HVAC maintenance with one of our skilled technicians, please contact us in the Sugar Land or Katy areas at ACS Absolute Comfort.
Image Provided by Shutterstock.com