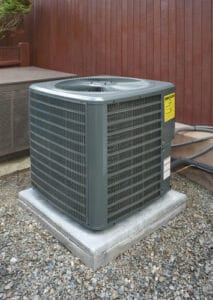 The Houston area climate requires an HVAC system that can keep up with both the cooling and heating load, operate efficiently to save you money, reduce carbon dioxide emissions, and provide you with a high level of comfort. If you're thinking about replacing an HVAC system with a newer, more energy-efficient system, here are a four major considerations to think about before committing to a new furnace, air conditioner or heat pump, to ensure you get the system that will best suit your needs for the next 10-20 years.
1. Replace It All? Or Just One Part?
If the indoor unit of your split-system A/C or heat pump is in good shape but the outdoor unit could use replacing, you might be tempted to replace only the outdoor unit.
In fact, replacing just one component of a split-system HVAC system can lead to serious and expensive operating problems down the road. Mismatched indoor and outdoor units won't typically live up to the standards of efficiency you expect, and will likely result in the poor performance of both parts. And they may not work together at all.
Depending on the size of your new system and the condition of your ductwork, you may be able to use the existing ducts instead of replacing the whole duct system. However, it's essential to have a professional evaluate the ductwork to determine if it's sized properly for the new HVAC system and whether it's in good enough shape to ensure the highest possible efficiency of the new equipment. Either way, the ductwork should be properly sealed and insulated to provide the highest level of comfort at the lowest possible cost.
2. What's the Best Size? 
There was a time when oversized systems were commonly installed in homes with the expectation that the bigger the system, the better it would heat and cool the home. Experts now know that this thinking is flawed for a number of reasons:
An oversized system won't dehumidify the home as well as a properly sized system, and could, in fact, send humidity back into the rooms, promoting mold and mildew growth.
An oversized system heats and cools more quickly, and then shuts off. This results in frequent cycling, which not only wears out the controls faster, but also prevents consistent heating and cooling and uses more energy.
An oversized system doesn't clean your indoor air as effectively as a properly sized one due to shorter run times.
Not only does a oversized system cost more to buy, but it also costs more to operate, fails sooner, and could require a lot of repairs during its operating life.
A qualified HVAC professional should inspect your home to determine the correct size of equipment you need when replacing an HVAC system.
3. What's the Best Type?
Split-system air-source heat pumps are a popular choice for our climate. They heat your home in the winter and keep it cool in the summer, eliminating the need for two separate heating and cooling systems. The heating efficiency of heat pumps is expressed using the Heating Season Performance Factor, or HSPF, and all of those on the market today are required to have an HSPF of at least 7.7. A heat pump with the Energy Star label will have an HSPF of 8.2 or higher, and although it will cost more initially, it will save you more money on heating costs over the course of its operating life.
Cooling system efficiency for both heat pumps and A/Cs is expressed by the Seasonal Energy Efficiency Ratio, or SEER, and those sold today must have a SEER of at least 13. Cooling systems with the Energy Star label have a SEER of at least 14.5. In our mild winter climate, SEER is the more important efficiency rating to keep track of.
Furnace efficiency is expressed using the Annual Fuel Utilization Efficiency, or AFUE. This number is a percentage that represents how much of the fuel burned is directly converted to heat for the home. Today, furnaces are required to have an AFUE of at least 78 percent. High-efficiency Energy Star-rated models have an AFUE of at least 97 percent.
4. Choosing a Contractor
Replacing an HVAC system requires the skilled expertise of a qualified HVAC technician, who must follow standardized protocol when installing a new system. Poorly installed systems won't operate at peak efficiency, and could void the warranty. Make sure your contractor is a member of a trade organization such as the Air Conditioning Contractors of America (ACCA). Technicians should be certified through the North American Technician Excellence, or NATE.
For more advice about what to consider when replacing an HVAC system, please feel free to contact us in the Houston, Sugar Land or Katy areas at ACS Absolute Comfort.
Image Provided by Shutterstock.com