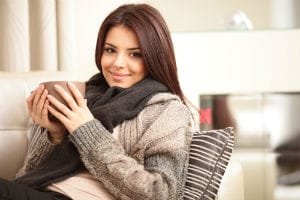 Nearly everyone loves summer, and why not? Long, hot, sunny days by the pool and cooler evenings spent on a backyard patio enjoying the company of family and friends. Winter, however, is typically not so beloved, especially among those combating winter blues caused by cooler temperatures and shorter days. Here are some great tips to make this long season both happier and brighter for you and your home.
Set the Programmable Thermostat
It's tempting to stay in bed when you know your home has cooled off overnight. Using a programmable thermostat, set your home heating system to begin kick on 30 minutes before you're due to wake and start the day with a smile. 
Dress for Success
One of the best ways to avoid feeling cold during the winter is to dress for it. Invest in a few heavier pieces for heating season, including sweaters, cardigans for layering, and a winter weight coat.
Wake With the Sun
Use a light timer to turn on a light in your bedroom 30 minutes before your alarm goes off. This will trick your body and your brain by simulating an artificial dawn. Once you're up, grab as much natural sunlight as you can. Throw open the drapes or head outside for a morning walk. 
Use Artificial Light
Light boxes simulate the sun's rays by slowing down the release of melatonin — a hormone responsible for sleep cycles and associated with melancholy, lethargy and depression. It can be used at the beginning or end of the day to lengthen it, combating winter blues effortlessly. 
Forget Your Troubles
Take care of winter home maintenance. Knowing that everything is in order allows you to rest easy and can help relieve anxiety. Start by scheduling annual preventive maintenance, during which your contractor will clean, lubricate and tune the heating system, helping to ensure efficient, uninterrupted service throughout the winter. 
For more tips on combating winter blues, give us a call at ACS Absolute Comfort. Our qualified, experienced contractors can help ensure your home stays warm and comfortable throughout the season. 
 Image via Shutterstock.com