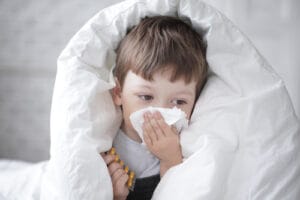 The U.S. EPA reports that indoor air quality (IAQ) ranks among the top five environmental hazards; the side effects can range from merely annoying to serious. Ever since energy prices began rising steeply in the '70s, focus has been increasing on making structures as tight as possible. As a consequence, indoor contaminants can build to unhealthy levels, unable to escape a tightly sealed home. 
The Most Common Indoor Air Pollutants and Their Side Effects
Volatile organic compounds (VOCs). VOCs come from many cleaning products, new furniture, carpeting, paint, gas appliances, air fresheners and vehicles. The gases these products emit can cause headaches, fatigue, nausea, and in extreme cases, central nervous system, kidney,or liver damage. Unvented gas stoves can emit carbon monoxide, formaldehyde and nitrogen dioxide. Attached garages used to house vehicles, pool and yard chemicals, or paints and solvents can allow dangerous gases to leak into your home. Of these emissions, carbon monoxide has the most serious health consequences. At levels high enough, it is fatal. Nitrogen dioxide causes respiratory irritation, especially in young children. 
 
Dust. The dust in homes is a mix of fibers and lint, shed skin cells, dust-mite waste, pollen and pet dander. Dander, pollen and dust-mite waste can trigger asthma and allergy attacks in people who are sensitive. Given our mild winter climate in the Houston area, these allergies can be a problem any time of year. 
 
Mold spores. Mold grows nearly everywhere on the planet, and it thrives in our humid climate. Some types of mold degrade indoor air quality more than others, and anyone with an allergy or sensitivity to mold may experience headaches, respiratory problems and even lung infections. Mold spreads through airborne spores that thrive wherever warmth, moisture and food are present. Besides causing respiratory problems, mold will irreparably damage anything organic inside your home.
Besides looking for products labeled as low in VOCs, you can manage IAQ by tending to your HVAC system and using products that improve indoor air quality through ventilation and air cleaning. To learn more, contact the pros at ACS Absolute Comfort, proudly serving homeowners in Houston, Pearland Springs, Sugar Land, Katy, Tomball, Missouri City and Cinco Ranch. 
Image Provided by Shutterstock.com