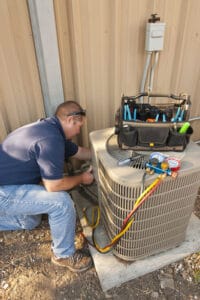 Let's face it: Houston is hotter than blazes in the summer, and your air conditioner works awfully hard to keep you cool in the sweltering heat. But an inefficient air conditioner will not only greatly increase your energy bills, but it will also lead the way to expensive repairs and inconvenient, uncomfortable breakdowns. Professional A/C maintenance is essential for your comfort and your pocketbook, and here's why.
Your System Works Hard!
Over time, electrical connections and belts loosen, dust builds up inside the system and reduces the efficiency of essential components like the fan, motor and coils. This means that your system has to work harder to produce and distribute cool air throughout your home, increasing cooling costs and decreasing the  reliability of your system. A professional tune-up resolves these issues and more, ensuring your system is prepared to meet the cooling demands of our region. 
Inefficiency Leads to Common Problems
Dust buildup on the fan and motor can cause your air conditioner to cycle erratically and even overheat, permanently damaging these components. A clogged condensate drain will shut down your system and cause water damage in your home. System controls may get out of whack and cause a number of expensive problems, while a refrigerant leak or improperly charged system won't cool your home properly and will send dangerous gases into the atmosphere. Improper airflow to your system may cause overheating and related damage. These are all very common A/C problems that require expensive repairs and even replacement, but they can be easily avoided with professional A/C maintenance.
Inefficiency Leads to Higher Energy Bills
When your system doesn't operate properly, it needs more electricity to keep your home cool. It cycles more frequently or stays on longer to maintain the right air temperature in your home, and your energy costs and your carbon footprint will increase considerably.  
It's always important to hire a reputable company with qualified technicians to perform your professional A/C maintenance. To schedule maintenance with one of our skilled, friendly technicians, please feel free to contact us in the Houston area at ACS Absolute Comfort. 
Image provided by Shutterstock.com