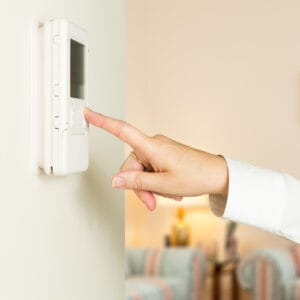 It's not often, but from time to time, a programmable thermostat can act up, a situation that can be easy to diagnose and fix. If you notice your home isn't feeling as comfortable as normal, you may have a thermostat problem. These tips can help you identify the issues associated with your thermostat:
Check the batteries. Some programmable thermostats use batteries. If yours doesn't have a low-battery light, you may have exhausted its charge. The front cover should come off easily and a battery compartment should be easily visible inside it. Turn the thermostat switch to off and replace the battery or batteries. Turn the switch back on and reset the thermostat if necessary. The HVAC system should run as normal with fresh batteries.
Locate the fuse inside the thermostat's compartment if the battery wasn't the problem. If a power surge went to the battery, it could have damaged the filament in the fuse. Note the brand and model of the thermostat or take out the fuse and take it to a hardware or home improvement center. Find the exact replacement and replace the old fuse.
Switch the system to heat if you've been running the air conditioner. If the system runs on heating but not cooling, you may not have a programmable thermostat problem, but a malfunctioning in the cooling side of the HVAC system. This will require an HVAC professional to diagnose and repair.
If neither the heating nor cooling system works, it's likely the thermostat. Check to see if you've received notification of a recall if it's still under warranty. If not, you may need to replace the circuit board, if possible, or the thermostat altogether.
Verify the time is correct. All programmable units run by tracking the time. Make sure yours is set correctly for a.m. and p.m., as well as the day of the week.
If you're having trouble with a programmable thermostat, contact ACS Absolute Comfort. We've provided top-notch HVAC services for Sugar Land, Houston, Tomball, Pearland Spring, Bellaire, Missouri City and Cinco Ranch homeowners since 2007.
Image Provided by Shutterstock.com