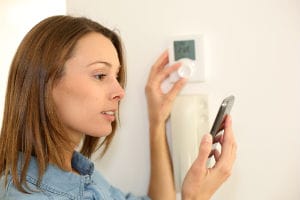 The season of twinkling holiday lights, wooly scarves and hot mugs of cocoa will be here in no time. There are many things to look forward to every winter, but you probably don't think the increase in your energy costs is one of them. The good news is that there are some simple steps you can take to help curb the extra expenses caused by winter energy usage. Learn more about how to reduce heating costs and make your home more energy efficient for the season.
Reduce Thermostat Settings
According to the U.S. Department of Energy (DOE), you can save between 5 to 15 percent by turning the temperature back 10 to 15 degrees for eight-hour periods of time everyday. Installing a programmable thermostat can help you achieve this. For each degree you lower the temperature, you can save about 3 percent on your bill.
Reduce Water Heater Setting
By turning down the water heater thermostat from the factory setting of 140 degrees to 120 degrees, you can save approximately 6 percent on water heating costs, without any sacrifice in comfort.
Installing low-flow shower heads can also help reduce your costs. If you have an older water heater, there's a good chance it didn't come with the built-in insulation modern ones have. By simply wrapping a blanket of insulation around it, you can lower water heating costs between 4 to 9 percent.
Seal Air Leaks
By sealing air leaks you can make your home 20 percent more energy efficient. Leaks are commonly found around doors, windows, electrical outlets, plumbing fixtures, attic and crawl spaces. Close air leaks around stationary features like door frames with caulk, and use weatherstripping on the moveable components such as operational windows.
Add Insulation
Insulation works like a warm and snug jacket for your home, locking in more warmed air and keeping more cold air out. It's vital that you have adequate insulation in the attic, in particular, to lower heating costs by at least 20 percent.
For more information on how to reduce heating costs, please feel free to contact us at ACS Absolute Comfort anytime.
Image via Shutterstock.com