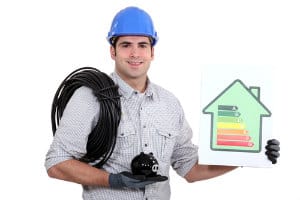 More homeowners today are just as concerned with the efficiency of their homes as the interior aesthetics and curb appeal. This would explain why more home remodeling projects are geared toward home efficiency, such as installing Energy Star-qualified windows or upgrading to energy-efficient siding. But how do you know which remodeling and efficiency upgrades offer the best investment? That's the value of a professional energy audit.
What Is a Professional Energy Audit?
A professional energy audit is an efficiency assessment of your home to show your where your home uses energy, where the home is losing energy, and detail efficiency upgrades to correct deficiencies. In this way, you can make an informed decision how much a home efficiency project cost and what the expected return will be in energy savings.
What to Expect From an Energy Audit
An energy auditor uses sophisticated equipment to detect heat gain and loss issues through the home's envelope. The envelope consists of all the materials, devices and systems that separate the living spaces from the unconditioned areas and the elements. A thermographic scan detects insufficient insulation values in exterior walls. A blower door test is used to measure and detect air leakage through cracks and holes through walls, flooring and the attic.
Professional energy audits provide more details than the efficiency of your home's envelope. You'll receive details on other systems in the home, your energy usage habits and suggestions for efficiency and conservation improvements.
Lighting: Did you know that LED lighting uses up to 80 percent less energy than incandescent? What's in your lamps?
Windows: How well do you treat your home's windows? Window coverings drastically cut heat gain and heat loss. Practical window covering include layered drapes, shades, storm shutters, mesh screens and blinds.
Cooling and heating: Does your home heat pump or A/C belong in a museum? It's certainly not that old, but a new higher-efficiency cooling and heating system delivers better comfort and may reduce cooling and heating costs by 20 percent or more.
To schedule a professional energy audit for your Sugar Land home, please contact us at ACS Absolute Comfort.
Image Provided by Shutterstock.com